DoAnagram
DoAnagram is a program to find anagram based on input user letters for Windows XP/Vista.
I used it to
hack
the online game
Word Challenge
in Facebook apps.
The program has inside 5 dictionaries:
- English
- Italian
- Spanish
- German
- French
At start of program you select the min and max characters you want to result and the letters you have to anagram. After this choose the dictionary and "Load Words". When load words the program filter the words you search and list the results. If you have
Word Challenge
opened you select the window browser and press
END
key to start the automatic typing in the game and all it's done.
Simple? I think yes.
Only requirements is Microsoft .NET Framework 3.5 and to install the program extract it from zip in any directory.
Last update
Version 1.0.1 - 20/03/13
Version 1.0.0 - 19/05/09
This is the first and last version of this program
All options are intuitive
Screenshot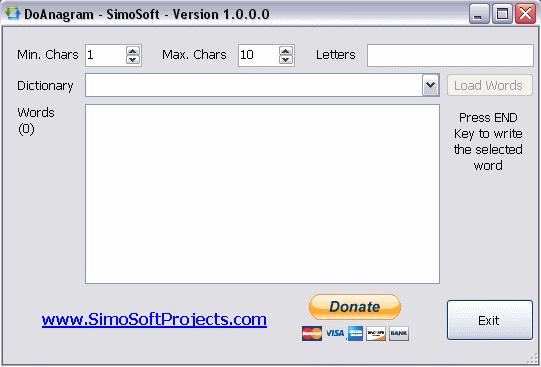 Download
Last Version
DoAnagram 1.0.1
(~1 Mb) -
DOWNLOAD
(23281 times)
Old Versions
DoAnagram 1.0.0
(~1 Mb) -
DOWNLOAD
(31304 times)